You can bet at one of the best betting sites in Tanzania using the exciting bonuses. Yes, we are talking about Premier Bet codes and bonuses. Learn about them all in this concise article and make your sports betting an even better experience.
What Are Premier Bet Codes?
You can find the current bonuses and the corresponding Premier Bet codes in the table below. You will reveal the codes once you click the link.
In this section, you will also find brief descriptions of all the bonuses.
100% matched Sports Bonus
The name says it all, this bonus adds some extra cash to your deposits. This can be as high as 1,165,000 TSH for sports or 2,330,000 TSH for slots.
But you do not need to get into the complexity to get this bonus. Simply put, on your first deposit, you will be asked to choose one of two, 100% matched Sports Bonus up to 1,165,000 TSH OR 100% matched Slots Bonus up to 2,330,000 TSH.
You will get this bonus automatically to your betslip. You do not need any of the Premier Bet codes.

Super 6
The Super 6 bonus is a special jackpot bonus that is completely free to play. Such bonuses generally have a small entry fee but not this one. Thus, you carry zero risk.
But you get the chance to win big prizes every week, every month, or at the end of the season. You could win as much as 250,000,000 TSH throughout the bonus period.
All you need to do is correctly predict the outcome of 6 pre-selected games.
Weekly Free Bets
The Premier Bet free bets bonus is the cornerstone of their loyalty program. Thus, this bonus is awarded based on your previous spending at the site.
More specifically, the bonus that you get in any week depends on your total bet value across the previous week.
You can win anywhere between 200 TSH to 20,000 TSH in Premier Bet free bets every week. You need to spend 4,000 TSH – 20,000 TSH for the minimum reward. Whereas spending 200,000 TSH+ will unlock the maximum reward.

Jackpot Bonus
In addition to Super 6, there is a bigger jackpot bonus. This bonus gives you the chance to win as much as 585,000,000 TSH by predicting 15 correct match results. The entry fee is only 1,170 TSH.
If you want to lower the stakes a bit, you can even compete for a share of a 117,000,000 TSH jackpot. The entry fee for this is also 1,170 TSH, but you only need to get 13 match results right.In both cases, there are consolation prizes for those who fail to get all results right but get the majority right.
How to Unlock the Premier Bet Bonus?
Premier Bet bonuses are available for both new as well as existing users. So, if you are reading this as a Premier Bet punter, you too can benefit from the bonuses talked about here.
Just simply use the Premier Bet codes during registration. But that may not be necessary at all because many bonuses at Premier Bet are applied automatically. In contrast, others operate on an opt-in basis.
However, if you do not have an account yet, you need to create one. The process is simple.
How to claim Premier Bet codes?
The first thing you need to do is access the Premier Bet Tanzania website from your mobile or desktop browser.

Then find and select the 'Register' button. That will load the registration form.

The quick registration form includes fields to enter your personal details.

This includes your phone number and password. You can add other details like your name and email address later. Or, you can use the full registration form and give them immediately. Also, you can add a sign up code when registering if needed.

You will get a registration code on your phone.

Your account will be ready once you enter that code. Then you can claim the bonuses whether they require Premier Bet bonus codes or not.
Reasons to Register with Premier Bet Codes?
Premier Bet bonus codes can open an entire world full of sports betting features in addition to the bonuses. In the following sections, we evaluate some of the biggest advantages of registering with Premier Bet codes.
Premier Bet Sports Betting Markets
You can use Premier Bet free bets to bet on dozens of sports which include both mainstream and niche games. For instance, you will find all the most popular sports in Tanzania, including football, basketball, tennis, ice hockey, table tennis, etc.
However, you will also find sports that have a small dedicated following. This includes boxing, MMA, Formula 1, baseball, etc.
Under each sport, you will find events ranging from a few dozen to over a thousand. That is the best thing about the sports markets at the site. The choice is just immense.
As far as the odds and bet types are concerned, the site packs a solid punch in that regard too. The odds are competitive, and each event comes with the opportunity to make various bets. This includes simple 1X2 bets to highly complex bets like double chance and both teams to score.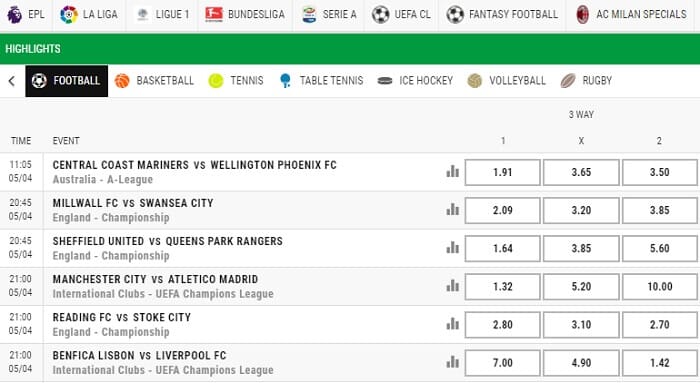 Live Betting
In addition to pre-match betting, you can indulge your passion for live betting at Premier Bet. And you can do that just as easily.
There is the entire roster of live games across all sports in their live betting section. You can pick your events and bets from there in a few simple clicks.
Moreover, you can change the view of the site to suit your preferences. That makes following live scores and odds changes much easier.
From the site, you can follow the latest updates and take prompt action based on them.
Premier Bet App
The Premier Bet brand has not released any dedicated mobile apps yet. That puts them at a slight disadvantage as competing brands have either an Android or both iOS and Android applications.
But that is not a huge dent in their capabilities. The mobile version of the site does almost as much as an app would have.
The user interface and the user experience on the mobile site will not leave you disappointed or frustrated. You will be able to get most of your things done through your smartphone or tablet.
This includes registration, claiming Premier Bet codes, deposits and withdrawals, making bets, and everything else.
Therefore, you will not feel the absence of an official mobile app. But an app has its advantages, and we hope that Premier Bet will rectify this gap shortly in the future.
Payment Methods
The variety of choices in terms of payment methods is another reason to prefer Premier Bet over other brands.
The payment methods include major mobile money systems. This includes Vodacom, Tigo Pesa, Airtel, Zantel, and Selcom. These methods are available for both deposits and withdrawals.
You may already be using these methods for other purposes. But additionally, you get a voucher payment process as well. This involves purchasing or redeeming vouchers from physical outlets spread across Tanzania.
Customer Service
In addition to an extensive FAQ section where you can find useful guides to all common issues, you can contact the site's support staff quite easily. This includes contact via contact form, live chat and phone.
You can go to the site's help centre and fill out a contact form, and the support team will reach back to you.
However, if your query or issue is of a more urgent nature, you can use the live chat option. But this can often get time-consuming during peak times.
In that case, a third option is available to you. That is the toll-free customer service number. You can call 0800-75-0032 to reach the helpful and knowledgeable staff at the Premier Bet customer service department. But this method can also have long wait times during peak times.
Thus, it is definitely a plus that there are three different customer service contact methods. That reduces the chances that you may have to wait a long time to get in touch with them. Your issues are generally likely to be resolved quickly and expertly.
Premier Bet Bonuses
As this article is about Premier Bet codes, we cannot skip the bonuses. After all, they are among the biggest benefits that make Premier Bet stand out.
The number of bonuses at your disposal is more than sufficient. And many of the bonuses are ones that you can enjoy more than once.
For instance, you can use the Premier Bet free bets bonus every week. Furthermore, the jackpots run almost throughout the year in conjunction with the football season in various parts of the world.
So, in a sense, there is one bonus or another that you can use at any given time. This makes your everyday experience of betting at Premier Bet that much better.
Premier Bet Codes Tanzania FAQs
Get answers to some of the basic Premier Bet Tanzania codes in the following sections.
Is Premier Bet Legal in Tanzania?
Premier Bet is a completely legal sportsbook operated by Entertainment Africa Ltd. They have a licence to provide sports betting services by The Gaming Board of Tanzania. Moreover, you simply have to look at their international brand reputation to get a sense of its reliability.
How to Use Premier Bet Bonus?
You need to use Premier Bet bonuses in accordance with their specific terms and conditions. For instance, you get the free bets weekly bonus as a reward for your previous week's bets. But you can only use them for bets with a certain number of selections and minimum odds.
How to Deposit on Premier Bet?
You can log in to your account and use the deposit option to inject funds into your Premier Bet account. The methods you can use include Vodacom, Tigo Pesa, Airtel, Zantel, and Selcom.
Why Are My Premier Bet Codes Not Working?
If your Premier Bet codes are not working, then you may surmise that they are not valid or they are not required. If it is none of those, please contact Premier Bet customer support.